DNA Romance And Genera Partner To Matchmake Singles In South America
DNA Romance and Genera has announced that the companies have entered into a strategic partnership to use precision genomics to help single people in Brazil find their soulmate and lasting love. 
This partnership brings together DNA Romance's genetic matchmaking app and Genera's DNA testing and analysis services available in Brazil. To make this possible, DNA Romance now accepts Genera's raw DNA files for matchmaking, and DNA Romance has been translated into Portuguese just in time to celebrate Dia dos Namorados, AKA "Brazilian Valentine's Day," "Lovers' Day," or "Boyfriend and Girlfriend Day" on Jun 12th, 2022.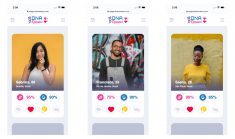 The concept of using DNA dating to find love was featured in the TV series on Netflix "The One" AMCs Soulmates, but this genetic matchmaking partnership is in real-life (IRL) and without the Hollywood drama. Now anyone who has taken a DNA test from Genera can search DNA Romance for their genetic soulmate in Brazil or worldwide. This partnership helps single people find love sooner and also makes DNA testing more accessible and fulfilling in Brazil and South America.